Shows
Changing Jennifers Christmas Show
Just hear those sleigh bells jingling
Come on it's lovely weather
For a sleigh ride together with...
...the Changing Jennifers! That's right, it's...
THE CHANGING JENNIFERS CHRISTMAS SHOW!!!
The improv event of the year is once again here to bring all your Christmas cheer! Prizes! Food! Drinks! Top notch improv! And this year, for the very first time, the show will be held at the beautiful RHINO ROOM! Adelaide's number one comedy venue!
This show always sells out, so get your tickets online TODAY and guarantee your place in the greatest Christmas event in Adelaide!
Let's take the road before us
And sing another chorus or two
Come on it's lovely weather
For a sleigh ride together with...
...Sam Calleja, Sam Hobbs-Griffin, Dan Hamilton, Will Mellor, and Eden Trebilco.
Thursday, December 19th @ 7:30pm
Rhino Room - 131 Pirie Street, Adelaide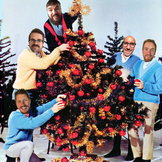 This event has completely sold out!