Shows
Quest Time!
A FANTASY ROLEPLAYING IMPROV SHOW!

A group of intrepid adventurers go on an epic quest based on your suggestions! Watch as the performers hilariously fumble their way through levelling-up, saving throws, and spell casting; all while exposing dark and sinister plots.

For lovers of fantasy roleplaying or improv comedy! Answer the call to adventure!
GOLD CLASS IMPROV AVAILABLE!
Before the show, you can order food and drink to arrive at your table during the performance at specific times!
Thursdays in May @ 7:30pm
The Duke Of Brunswick - 207 Gilbert Street, Adelaide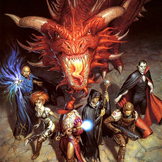 This event has completely sold out!