Shows
BASTILLE DAY

NOTE: We have received some reports of people experiencing difficulties making purchases online. We are presently investigating this, but if you have any difficulty at all, please contact support@dramatix.com.au or call (08) 8121 6077 and leave your name and contact number. We apologise for any inconvenience.
Aux armes citoyens!
13 July 2014 from 5pm to 7.30pm
TICKET SALES CLOSE AT 5pm on Thursday 10 July 2014. Purchase now so you do not miss out!
SA Museum, North Terrace, Adelaide
French National Day - Adelaide 2014
Come along to celebrate Bastille Day 2014 at the Museum of South Australia on 13th July.
Enjoy Quiche Lorraine, Beef Bourgion pies, comfit of duck, and chocolate éclairs, Mumm French champagne and French music at the SA Museum for

only $20 per adult and FREE for children under 12yo!!!!!!!! (Please inform us of how many children you are bringing using the text box provided on the page following your purchase)

.
Children can follow François Péron on a voyage of discovery of plants, insects and mammals. Join Francois Peron and one the the crew of Le Geographe as they sing about what it was really like on board sailing ships in days of old. From the ghastly, to the revolting and adventures on the high seas – you will learn what it wsa really like on those early sailing vessels.
French Magician Jacques will entertain with balloon and magic tricks.
Kids!! Don't forget to dress up as either an explorer or a museum artefact!! The best costume will win a family pass for Adelaide Zoo!!
Brought to you again by the French Consul Agency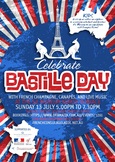 This event has completely sold out!