Shows
The Audreys @ The Three Brothers Arms
The Audreys are back!!
Catch their first show of 2022 on the glorious deck of the Three Brothers Arms Hotel in Maccelsfield, SA. Sunday, February 6th, 2022. Doors open at 2pm.
*this is a reschedule of the November 27th, 2021 Taasha Coates (solo) show.
Live favourites and multiple ARIA award winners The Audreys ARE BACK with a brand new lineup following 2 sold out Adelaide shows plus a festival appearance at Groundwater in November.
Led by sultry songstress Taasha Coates, The Audreys have graced almost every major festival in Australia and played more gigs than they can count. They've rocked festivals and clubs in Europe and North America, sold songs to films and tv shows far and wide, written music for live theatre, won awards, hit the charts, gone gold and pawned their very hearts for rock and roll.
Launching in 2006 with Triple J faves "You and Steve McQueen", "Oh Honey' and "Banjo & Violin" from their debut album, The Audreys have five albums worth of songs to choose from and just as many hilarious anecdotes.

http://www.theaudreys.com.au
https://www.facebook.com/theaudreys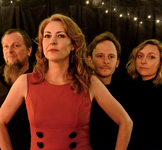 This event has completely sold out!