Shows
Level 1: Find Your Physicality | Workshop Series with On the Fly
It's time to get physical!
Join Curtis Shipley, master of spacework, mime and hilarious facial expressions, for a foray into finding your physicality as an improviser! Learn how to create detailed imaginary worlds, navigate and inhabit those landscapes, handle invisible props as if they were real, create new characters with simple alterations to your movement, use physicality to avoid having to rely on only dialogue to build a scene, and more!
This workshop will make your scenes seem more real and grounded in the physical world, plus add variety to your scenes and extra engagement to your audience's eye!
Book all sessions up front now for a 10% discount! Just select the Full Term option. If not sold out, sales for individual weeks will open closer to the time.
***KEY DETAILS***
Date: Wednesdays, 6:30pm, 13 April - 25 May (excluding 4 May).
Venue: The Joinery, 111 Franklin Street Adelaide
Duration: 90 minutes per class
Pre-requisites: Must have completed Intro to Impro with On the Fly Impro or a similar organisation (Level 1).
Dress Code: Casual and comfy
Cost: $16 full price/ $8 concession per class (or $12 full price/$6 concession for people with 2022 Membership to On the Fly).
Select a Full Term ticket option to book all sessions up front, receive a discount and guarantee your place for the whole term.
*** COVID-19 POLICIES ***
Due to government restrictions and to help everyone feel safe, please adhere to the following:

- If you are feeling sick, do NOT attend.
- Masks are currently optional during our workshops as per SA Health guidelines
- You are asked not to touch anyone during the workshop, practice physical distancing and maintain good hand hygiene.
These workshops will have strict limits to the number of participants in each workshop. Book online to avoid disappointment!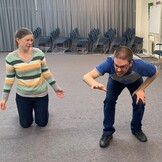 This event has completely sold out!