Shows
The Penelopiad by Margaret Atwood
Penelope is the wife of Odysseus and cousin to the beautiful Helen of Troy. In Homer's Odyssey she is cast as the perfect wife: patient, modest, and above all, faithful. Penelope and her loyal maids fend off the attentions of greedy suitors while her husband fights battles, slays monsters and sleeps with goddesses on the long journey home. When Odysseus finally returns, their reward for years of devotion and ingenuity is not what any of them expect.
Margaret Atwood, author of The Handmaid's Tale, gives Penelope and her chorus of maids the chance to tell their own story in this stage version of her witty, wry and wise novel.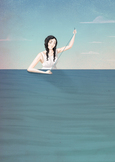 This event has completely sold out!