Shows
HARRY JAMES ANGUS (THE CAT EMPIRE) @ FLOW BAR
Old Fashioned Mayhem
Saturday 22nd May | 6pm | $30 + booking fee
Harry James Angus, the firebrand trumpet-playing vocalist from the hugely successful band The Cat Empire, is known both for his thrilling live performances and for his constant musical re-invention. His full-time gig with The Cat Empire has had much success. 6 Australian top ten albums and huge chart success all over the world, appearances at every major festival including Glastonbury, Montreal Jazz and TV appearances on Letterman and Jay Leno.
Harry's solo work is a different beast though.
His new work takes the raw intensity, chaos and exploratory power that has helped make The Cat Empire such an incandescent live experience, but redirects it towards a darker, more weirdly beautiful universe. A universe inspired by artists like Nina Simone, Van Morrison, Antony & The Johnsons and John Coltrane.
The third song from Harry's new body of work "Old Fashioned Mayhem", completely lives up to its name, its unrelenting raw chaos is like a ride on Melbourne's iconic Mad Mouse and marks a distinct change in genres from Harry who seems able to flip between styles so completely effortlessly.
Doors open at 6:00pm for Dinner and Drinks | Show starts at 7:00pm.
More info on the venue:
Accommodation available upstairs at our:
www.boogiewoogiebeachhouse.com.au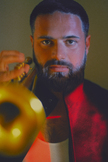 This event has completely sold out!