Shows
Level 2 Committed to Character
Have you ever jumped into a scene and wished that you had included a specific characteristic that would have raised stakes or helped to enhance the world? Do you find that you are typecasting yourself and playing similar characters in multiple scenes?
"Characters within improv are absolutely vital to the survival of a scene. Characters build strong foundations to a scene and help to build the relationship. ... when we give those characters actual emotion it draws the audience even more into the scene, which makes the payoff even greater". - JesterZ Improv
In this six-week term, we will continue to explore adding accents, status, physical characteristics and emotions, with an emphasis on accepting/making bold physical offers, to help enhance your short-form and mid-form scenes. So, come along and see just how characterful you can be!!!!
Book all six sessions up front now for a discount - just select the Full Term option! If not sold out, sales for individual weeks will open closer to the time.
*** KEY DETAILS ***
Date: Wednesdays 8:15pm, 14 April - 26 May (NB: No class on 5th May)
Venue: The Joinery, 111 Franklin St, Adelaide
Duration: 90 minutes per class
Pre-requisites: Completion of one year or more of improvisation workshops with On the Fly Impro or a similar organisation (Level 2)
Dress Code: Casual and comfy
Cost: $12 full price/ $7 concession per class (or $10 full price/$5 concession for 2021 Members of On the Fly). Book all six sessions up front (select Full Term option) for a discount!

*** COVID-19 POLICIES ***
Due to government restrictions and to help everyone feel safe, there will be a few changes to the way our workshops usually run. These workshops will:
- Be discounted to help everyone get back into improv after the pandemic!
- Have strict limits to the number of participants in each workshop
- Accept online-bookings only (no door sales).
If you are feeling sick, do NOT attend.
You are also asked not to touch anyone during the workshop, practice physical distancing and maintain good hand hygiene.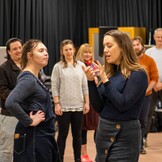 This event has completely sold out!