Shows
Level 1: Narrative Know-How
Starting an improv scene can be daunting knowing that there are so many directions you can go! In this six-week course, we'll deep dive into scenes, and explore some of the key concepts that make a scene, work!
Learn more about narrative structure, and play with scene stakes, the focus of the scene, stage-craft and more in a friendly, fail-safe environment! Come play!
Book all sessions up front now for a 10% discount! Just select the Full Term option. If not sold out, sales for individual weeks will open closer to the time.
*** KEY DETAILS ***
Date: Wednesdays 6:30pm, 13 October - 24 November (NB: No class on 3rd November)
Venue: The Joinery, 111 Franklin St, Adelaide
Duration: 90 minutes per class
Pre-requisites: Must be Level 1 (i.e. have completed Intro to Impro with On the Fly Impro or a similar organisation).
Dress Code: Casual and comfy
Cost: $12 full price/ $7 concession per class (or $10 full price/$5 concession for 2021 Members of On the Fly). Book all sessions up front (select Full Term option) for a discount!
Tutor: Curtis Shipley

*** COVID-19 POLICIES ***

Due to government restrictions and to help everyone feel safe, there will be a few changes to the way our workshops usually run.

- If you are feeling sick, do NOT attend.
- Masks are currently compulsory at all times during the workshops
- You are asked not to touch anyone during the workshop, practice physical distancing and maintain good hand hygiene.
These workshops will:
- Be discounted to help everyone get back into improv after the pandemic!
- Have strict limits to the number of participants in each workshop. Book online to avoid disappointment!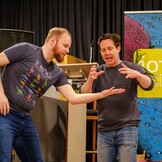 This event has completely sold out!