Shows
Maestro Rehearsals
Adelaide Fringe 2021 is just around the corner and OTF's annual Maestro show will be held at the Rhino Room this year.
There will be six rehearsals at the Joinery in the lead up to this year's Maestro. Rehearsals will be from 7-9pm on the following dates:
20th Jan 19:00 - 21:00
27th Jan 19:00 - 21:00
3rd Feb 19:00 - 21:00
10th Feb 19:00 - 21:00
17th Feb 19:00 - 21:00
24th Feb 19:00 - 21:00
Everyone is welcome to the rehearsals - you don't have to want to be in the show to join. If you DO want to do the show, you must come to some of the rehearsals. Casting will be partly based on how many rehearsals you have attended (as well as other factors).
Any questions, let us know!
Sessions led by: Marshall Cowan and Kristy Wigg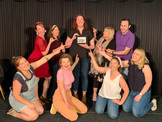 This event has completely sold out!