Shows
NEW YEAR'S EVE 2020 8.30pm @ FLOW BAR
HEY 2020!
"AM I EVER GONNA SEE YOUR FACE AGAIN?"
We're all ready to give 2020 a huge send off and send it packing!
We love a dress up for NYE so come up with your best outfit or costume that you want to wear to bid 2020 adios... arrivederci... au revoir... sayonara... good bye!
Let local legends The Southern Hold entertain you while you dig in to your choice of either gourmet pizza or a seafood platter for two.
Tickets include Entry, Dinner and Show.
Gourmet Pizza + Show $49 per person
Or
Seafood Platter + Show for two people $170.
Gluten Free available | Doors Open at 8:30pm | Doors close 12:30am.
For more info on our venue head to:
Our website www.flowbar.com.au
Or our Facebook page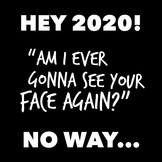 This event has completely sold out!