Shows
What Are The Rules? | Improv Comedy Show
This October, Tenuous Link Productions present an improv comedy show like no other!!
What would happen if you mixed the challenge of improvising a one-hour, coherent story with the chaotic rules of improv games (as seen on Whose Line Is It Anyway?)? You're about to find out in 'What Are The Rules?'! (Hint: whatever happens, it'll be hilarious!)
The Rule Master, armed with a Wheel-of-Fortune-style wheel of rules, controls the fates of five of Adelaide's finest improvisers in this never-before-seen format. Don't miss out on this premiere season!
Praise for Tenuous Link's previous shows:
"'A Total Cop Out' presented by Tenuous Link ...confirmed what we already knew, that the Improv Scene in Adelaide is amazing and is something we should all treasure very dearly." ★★★★★ - All Over Adelaide
"A great way to spend an evening laughing (and groaning) at jokes" - Kryztoff RAW
COVID-19 Regulations
Please note that due to restrictions, audience numbers are strictly limited, so book now! If you would like to get dinner at the Duke of Brunswick before the show please call them separately to book a table. We thank our audiences for adhering to all instructions from the Duke of Brunswick's friendly staff.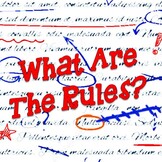 This event has completely sold out!