Shows
Impro Classes with On The Fly – The 10 Commandments
Advanced Improv Classes: Making A Scene
Wednesdays 9 October – 27 November @ 7.30pm–9.30pm (excludes 6 November)
The Joinery, 111 Franklin St, Adelaide.
Improvising is a skill. The more you practice it, the better you will become. As we progress as improvisers and pick up bad habits, it is easy to forget some of the foundational lessons on which improv is based.
Taking from the 10 Commandments of Improvisation by Keith Johnstone, and the 11 Commandments of Improvisation by Del Close, this class applies basic lessons in advanced situations.
Taught by Tenuous Link's Claire Bottrall and Paul Gordon, this scene-focussed class is ideal for improvisers who have been performing for a long time, as well as those who have just come through Intermediate classes.
Prebooking is STRONGLY encouraged, as pre-class instructions will be given by the teachers.
Pre-requisites: Intermediate Improv or equivalent
Dress Code: Casual and comfy
Duration: 2 hours per class for seven weeks
Cost? $20 per class (concession $15)
Member: $12 per class (concession $8)
Discount applies if you buy all classes upfront.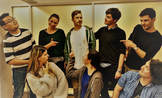 This event has completely sold out!