Shows
CATHERINE BRITT'S 'BUSH PUBS TOUR' @ FLOW BAR
Kicking off at the Tamworth Country Music Festival with her only festival show, Catherine Britt is bringing music back to the bush (or in our case... regional!) & the outback with a special one off concert!
Since travelling around Australia in a caravan for over 3 years, Catherine has felt that the music doesn't seem to reach the bush as much as it should. She has been doing odd gigs along the way in outback bush pubs and has found that the community is so in need of music and entertainment that they come out in droves thanks to the bush telegraph!
"A bush pub is where the community and their families come together and spend quality time" Catherine said. "It's a meeting place, a watering hole and a shared home for people in the bush".
Catherine wants to go back to the old school ways and bring the music back to the bush - like Slim Dusty did back in the day!
"We are very excited and proud to have Jayco Newcastle on board as a sponsor again who will be providing our means of travel around this beautiful country in a Jayco Caravan!"
While not exactly in the bush we are honoured that Catherine has included our small regional town on her tour.
Catherine Britt has a voice that instantly gets your attention… but unlike others, it is the craftsmanship of this singer/songwriter who unashamedly boasts a worthy story to tell that truly keeps her audience enthralled.
She has lived a life in the world of entertainment most will never experience or dream of! The Aussie girl from the coal works of Newcastle uprooted herself at 17 years old and moved for six years to Nashville TN (USA) where she gained a deep knowledge of country/roots/folk history as well as touring extensively and releasing top 40 Billboard hits.
Her recording career commenced in 1999 when at the tender age of 14 she released her first EP followed in 2001 by her debut album release. Since then she has released six more studio albums as well as a "Best of" album and has collected along the way accolades, a legion of fans and a mantel of awards including the country industry's highest honours. She currently has 5 Golden Guitar Awards, three of which are for Female Artist Of The Year. Six of Catherine's 7 albums released to date have been nominated for the ARIA Award for the Best Country Album release, which is a first for any Australian country artist. In 2010, Catherine was also presented with the CMA Global Artist of the Year award.
Catherine Britt's talent has also seen her tour, perform and record with some of music's most respected names including Kasey Chambers, Paul Kelly, Sir Elton John, Don McLean, Chris Isaac, Brooks & Dunn, Alan Jackson, Guy Clark, Steve Earle, Kenny Chesney and Keith Urban to name but a few.
Catherine Britt remains to this day the youngest Australian to ever perform at the Grand Ole Opry at the tender age of 17.
Not only is she an accomplished singer/songwriter, she has also proved herself as a formidable interviewer and comfortable host in her role on Australia's national radio broadcast of ABC Saturday Night Country showcasing her own flavour on the popular program each week for over two years. She also shined on television as the host of CMC's 'Alt Country' program and also as the Managing Editor & Owner of Australia's ONLY Roots Music Magazine – Rhythms.
Whilst her credentials to date are enough for most, Britt's drive to better herself and continue to improve, as an artist is what has led her to continue on as one of Australia's most successful Singer/Songwriters and businesswomen after more than 20 years.
http://www.catherinebritt.com/
Tix $25 + BF through Dramatix or at the Venue
Doors open at 6:00pm for Dinner and Drinks | Show starts at 6:30pm
Pizza and a la carte dinner menu availble from 6:00pm | Doors close at 10:30pm
Check the Venue out below:
https://www.facebook.com/FLOWCAFE/
Accommodation is available upstairs at Boogie Woogie Beach House, check out your options at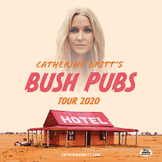 This event has completely sold out!