Shows
FATHER'S DAY EVE WHISKY PAIRING AT FLOW BAR
IN CONJUNCTION WITH WORLD OF WHISKY
ENTERTAINMENT FROM THE SOUTHERN HOLD
At this special Father's Day experience Dad will enjoy a five-course whisky pairing dinner where he will learn about the history of whisky, how whisky is made and comparisons between different types of whisky. He will also learn the best way to appreciate single malt whisky from one of the most knowledgeable whisky professionals in Australia.
We will be tasting*:
Douglas Laing's Scallywag

Blended malt from the Speyside. Includes Mortlach, Macallan and Glenrothes distilleries.

Dark chocolate with stewed fruits, sweet spices and orange zest.

The English - Original

Aromas of Marie biscuits, fresh sponge cake and vanilla-laced malt with emerging fruitiness. Equally delightful flavour-wise , the malt landing on the tongue like a pillow; oily, with light orchard fruits; some beeswax and biscuity malt through the aftertaste. Spices build, adding depth. Impeccable sweet-dry balance. Lingering orchard fruitiness.

Glenturret - The Sherry Edition

Deep gold. Apples and fresh grapes on the nose with later inhalations finding dried fruits including apricot and fig. Mildly oily, middleweight delivery with spicy fruit cake, vanilla and hints of wood shavings in the drying aftertaste. Youthful yet balanced. Well-defined sherry input.

Tomatin Cu Bocan

Light smoke with rich citrus and exotic spices.

Highland single malt.

Clean, subtle and elegant with floral and sweet notes mixed with vanilla and coconut.

Single malt from Taiwan.
*Whiskies subject to change but any replacement will be comparable
Paired with the above whiskies we'll be feasting on the following dishes:
On arrival

Bread, chorizo & olives

First course

Pickled Prawn salad with labna (mild spice)

Second course

Crab slider with chives and lemon zest garlic aioli

Third course

Beef tataki with beetroot relish & horseradish creme fraiche

Fourth course

Pork belly bao with pickled carrot, pickled cucumber and seeded mustard

Fifth course

Chocolate mousse with berry compote

The above accompanied by Iceberg salad with blue cheese & lardon / Kipfler potatoes
Live music from local favourites The Southern Hold will provide the soundtrack to this evening that will let Dad know just how special he is.
Tickets are $99 + BF per person, available from Dramatix or can be purchased directly from Flow Bar.
Check the venue out here:
https://www.facebook.com/FLOWCAFE/
Accommodation is available upstairs at Boogie Woogie Beach House, check out your options at
http://www.boogiewoogiebeachhouse.com.au/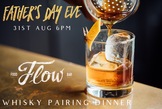 This event has completely sold out!