Shows
Come & Try Improv Workshop with On The Fly
Do you want to improve your public speaking skills, be a better performer, or feel more comfortable when put on the spot?
If you answered yes to any of these questions, or you just want to have a truckload of fun, improvisation is for you!
Improvisation has been made popular by TV shows like 'Thank God You're Here' and 'Whose Line is it Anyway?', and now you can join On the Fly's experienced teachers to explore its core concepts in our Come & Try Improv workshop.
Improvisation is a form of unscripted comedy where all scenes, story and characters are created on the spot. In improv, there are techniques and principles that guide you through each moment. These make improvisation learnable and doable for all.
Improvisation is fun, creative and playful and helps you develop your own creativity, spontaneity, self-confidence, public speaking and free-thinking. Lots of laughter too!
*** What Will Happen In The Workshop? ***
The workshop (and, indeed, improvisation as a whole) is collaborative and supportive, and you will never be expected to 'perform' on your own. This is a supportive learning environment.
This starts with ice breaker games, where playful silliness is encouraged! Everyone is involved and gets to know each other through playful games.
After warming up, we will lead into simple, very short improvised skills, scenes and games. In this workshop, we explore simple tips to create fun and interesting scenes and characters, using the basic principles of improv.
Date: 10.00am–1.00pm, Saturday 29 June
Venue: The Duke of Brunswick, 207 Gilbert Street Adelaide
Dress code: Casual and comfy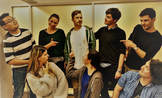 This event has completely sold out!