Shows
AUFC 2019 Play - La Guerre de Troie n'aura pas lieu
The Adelaide University French Club is proud to present its 2019 production, La Guerre de Troie n'aura pas lieu, an adaptation of Jean Giraudoux's classic drama about the Trojan War.


Within the walls of Troy, Trojan leader Hector becomes conflicted about the oncoming war. Amidst a turbulent fight with the Greeks, Hector argues peace over violence and tries to persuade his brother Paris to reconsider and return Helen to Greece. As factions argue over war or peace, relationships are strained and fights ensue. Ultimately, the war *SPOILER* takes place.
Many French-speaking audience members will be familiar with this timeless tragedy discussing the ever-present struggle between peace and war. For those unfamiliar with Giraudoux's work, do not fear! All performances will feature English surtitles, a scene-by-scene guide and plenty of visual entertainment.
Performances
Wednesday 28 August, 1.00pm and 6.30pm.
Thursday 29 August, 1.00pm and 6.30pm.
Friday 30 August, 1.00pm and 6.30pm.
Doors will open 20 minutes prior to performances.
Little Theatre, University of Adelaide North Terrace Campus (
https://goo.gl/maps/p876K8QFsUv
).
Scheduled running time: 130 minutes
Don't miss out!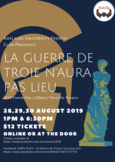 This event has completely sold out!