Shows
Dance Triple Bill
Dance Triple Bill 2019
AGAGA examines the belief in dark spirits, superstition and the mythology of the '3 sisters' ('fasi teine') in Samoa.
Over those is surrealistic piece about taking care, partying and losing yourself.
Spheres - A Dance for Virtual Reality (presented in the AC Arts Foyer)
Sarah Neville is currently investigating how it feels to dance in immersive digital environments. Through the use of Motion Capture and Virtual Reality technology, she invites the viewer to interact with the work and experience contemporary dance first hand. Traversing a journey for seven dancers through three worlds, the experience will explore each dancer's movement and how it resonates with the environment.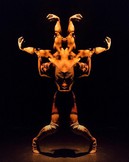 This event has completely sold out!