Shows
2019 Western Frontier Op Shop Tour - SOLD OUT!
Love shopping? Love bargains? Love an amazing morning tea?
Join Julie and Kelly for the Western Frontier You, Us and a Bus Op Shop tour!
This tour is now SOLD OUT, please join us for our December tour!
Tickets are $38 (including morning tea and booking fee).
Your op shopping experience will begin at 9am at the SALVOS, 422 Morphett St, Adelaide. Free parking is available on South Tce, near Morphett St. You'll have time to find some fantastic bargains before the bus arrives to pick us up at 9:30am SHARP.
This fun 4 hour tour will then travel from the city to St Richard's at Brooklyn Park for a very special morning tea, Fulham, Glenelg and Camden Park to visit some amazing Op Shops. Specials and discounts have been organised only for You, Us and a Bus customers! Please bring cash for those shops without EFTPOS facilities and extra shopping bags if you wish. Please note routes and shops are subject to change.
We will return to the SALVOS, 422 Morphett St, Adelaide at approx 1:30pm.
Happy Op Shopping!
Julie and Kelly from You, Us and a Bus.
Ph 0421613658
Please note: If you are unable to attend the booked tour no refunds are provided. However, you can use the ticket on the subsequent tour date only, subject to availability and the following condition. You must email youusandabus@gmail.com or call/text 0421 613 658 at least two weeks prior to the subsequent tour to confirm your seat.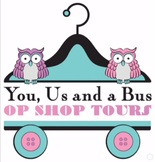 This event has completely sold out!