Shows
On The Fly Membership 2018/2019
What does yearly membership get me?

• Cheaper class prices (save up to $8 per week!)
• Access to the On the Fly Mentoring Program
• Access to the Annual General Meeting. Have your say about On The Fly or become a committee member
• Access to our Facebook group 'On the Fly Community' to keep up to date with workshops and performances
• A fancy laminated membership card
• Other opportunities, including scholarships

Why do you charge a membership fee?

It helps us keep our class prices down by paying for those boring, fixed costs all organisations have, like insurance.

How much is it for FY18/19?

$50 adult, $30 concession
If you plan on doing a term or more of classes it's worth your while to join from a $ perspective – if for no other reason.

How do I apply or renew?

Purchase your membership online. You can pick up a membership form at a workshop.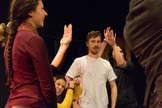 This event has completely sold out!