Shows
Seriously.
Taking a step away from improv's fast-paced comedy roots, 'Seriously.' is an open long-form improvised drama based on audience suggestion.
GOLD CLASS IMPROV AVAILABLE!
Before the show, you can order food and drink to arrive at your table during the performance at specific times!
Thursdays in April @ 7:30pm
The Duke Of Brunswick - 207 Gilbert Street, Adelaide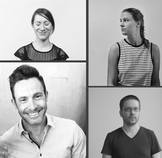 This event has completely sold out!