Shows
Friends and Relatives Music Festival
Friends and Relatives Music Festival
General admission tickets- Secure your place at this boutique music event. It will be set in a stunning venue on the Mid North Coast and general admission tickets are strictly limited. This event will sell out. Line up- Kim Churchill, Young Monks, The Swamp Stompers, Harry's Lookout and James Bennett.
All children under 13 are free. This is an all ages, family friendly event. Great Lakes Winery, Wootton is a licenced venue and no BYO alcohol is permitted. Music starts at 1.30pm and finishes by 7.30pm.
Venue information- Great Lakes Winery, Wootton.
Artist information
Kim Churchill- www.kimchurchill.com
Young Monks- www.youngmonks.net/
The Swamp Stompers- www.theswampstompers.com
Harry's Lookout- www.facebook.com/Harrys-Lookout-121300324601533/
James Bennett- www.facebook.com/JamesBennettsound/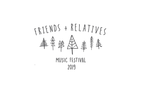 This event has completely sold out!