Shows
JIM MOGINIE AND THE FAMILY DOG
Select Music Presents...
Summer Of The Dog Tour
With Special Guests
Back in 2006 Jim Moginie (Midnight Oil) founded The Family Dog to promote his first solo album 'Alas Folkloric'. They went on to perform and tour together. In November and December 2018, The Family Dog is hitting the road after a long hiatus and showcasing songs and tunes from the new album 'Bark Overtures', recorded live at Oceanic Studios. It will be released on November 5 by Sony Music Australia on CD and vinyl and Orchard digitally in worldwide.
The Family Dog is guitarist Kent Steedman and drummer Paul Loughhead from Northern Beaches legends and punk rockers The Celibate Rifles, plus multi-instrumentalist Tim Kevin from La Huva, Exiles and Youth Group. Live, this line-up is all about dynamics, travelling from a whisper to a scream, from a blitzkrieg, to trippy psychedelia, with the odd Oil's classic thrown in for good measure.
Fresh from Midnight Oil's reunion and massively successful Grand Circle World Tour, Moginie is back and has picked up some of his own projects, in which he invested so much of his time and talents in the intervening years between Midnight Oil's break up in late 2002 and the bands reformation last year.
Tix $27.50 + BF through Dramatix or at the Venue ($35 at the Door)
Doors open at 5:30pm for Dinner and Drinks | Show Door at 6:30pm
Dinner available till 7:30pm | Doors close at 10:30pm

Accommodation is available upstairs at Boogie Woogie Beach House, check out your options at
http://www.boogiewoogiebeachhouse.com.au/
Check the Venue out below:
https://www.facebook.com/FLOWCAFE/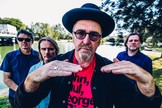 This event has completely sold out!