Shows
NYE 88 - WIND BACK THE CLOCK AT FLOW BAR THIS NEW YEAR'S EVE!
We're winding back the clock this New Year's Eve to 1988 at Flow Bar!
Kylie and Jason, Rick Astley, Michael Jackson, Bros, Bananarama and Dirty Dancing Soundtrack dominated the charts... all was not lost though... The Pixies and Nick Cave & The Bad Seeds were also there that year!
Celebrate the year that was acid-washed denim, oversized jackets, bold colours and Air Jordans.
Crack out your LA Gears and your Chicago Bulls baseball cap and party into the New Year with us as we eat, drink and dance our way to midnight.
Come ready for a fun night with prizes for best dressed and best dance moves.
Tickets include Entry, Dinner and Show by Port Macquarie's 'Alter Ego'.
Gourmet Pizza + Show $49 per person
Or
Seafood Platter + Show for two people $150.
Gluten Free available | Doors Open at 6:30pm | Doors close 12:30am.
Need some reminding of what people were wearing that year... check these links...
http://m.zimbio.com/80'S+Style+And+80'S+Fashion/articles/ovlwu0FEamb/1987+1988+1989+Fashion+Trends
http://periodicult.tumblr.com/search/+1988
https://www.retrowaste.com/1980s/fashion-in-the-1980s/#RefTable
Check the Venue out below:
https://www.facebook.com/FLOWCAFE/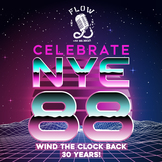 This event has completely sold out!