Shows
LAW MISÉRABLES
The cast and crew of Adelaide Law Revue 2018 are proud to present 'Law Misérables'!

Come and see the best (and only!) sketch comedy show produced by any Law School in Adelaide. The show is written, directed and choreographed entirely by University of Adelaide Law Students. We present the pinnacle in satire and parody. We also have singing which has been described as 'decidedly sub-par'.

With the bad taste of Harvey Weinstein's morning breath and the satirical wit of three live exported cows, come along for a night of mostly mayhem, constant cringe, scattered sniggers and more.
The New York Times has called it 'dull - like the Chaser, but on Swiss Ultivites and a good night's sleep.' Mark Latham went so far as to exclaim, 'what has happened to our Australian sense of humour - this show is more like a censor of humour!'

The show has sold out 11 years in a row so get in quick!

Dates: 12th, 13th, 14th & 15th of September

Time: Show starts at 7:30 Sharp. Doors at approx. 7:00
Price: All tickets $15 (+booking fee if purchasing online)
Location: Little Theatre, University of Adelaide Cloisters
No Allocated Seating
BUY TICKETS:
Online - Monday 3 September at 7:00pm
Limited presale - In the Ligertwood foyer on Monday 3 September, between 11am and 1pm.
CAST: Christian Andreotti, Elana Bartholomeusz, Rory Clark, Grace Denney, Jack Eccleston, Nicholas Garbas, Alison Jones, Christopher Michalakas, Sam Millett, Emily Olle, Georgia Penglis, Jacqui Raymond and Andre Vafiadis
Directed by Liam Cobain

Poster Design: Alison Jones
Facebook event: https://www.facebook.com/events/280356686126544/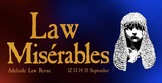 This event has completely sold out!