Shows
GREEN SPIDERS with special guests ABERRATION
Ex-members of The Lime Spiders reunite with Mushroom Planet singer Ripley Hood to punch out a low-fi set of Spiders classics. Fasten your seatbelts as The Green Spiders blast through their extensive catalogue of 80s indie chart toppers such as Slave Girl, Out Of Control, Weirdo Libido, Just One Solution, My Favourite Room & Volatile.
Aberration kick off proceedings with a set of sharp edged melodic acoustic low-fi power punk. This enigmatic outfit kicked around Sydney in the 1980s sharing stages with the likes of The Hard Ons, Massappeal and Vicous Circle. A new lineup featuring ex-members of The Lime Spiders, New Christs and Hell Crab City has been reprised to record and tour the debut album Tuckerbox.
Don't miss this one off special event exclusive to Flow Bar.
Accommodation is available upstairs at Boogie Woogie Beach House, check out your options at
Find out more about Aberration here
https://www.facebook.com/AberrationOZ/
Find out more about the venue here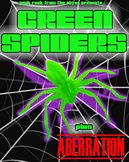 This event has completely sold out!