Shows
NATHAN CAVALERI 'DEMONS' TOUR @ FLOW BAR
NATHAN CAVALERI RETURNS TO THE STAGE WITH THE RELEASE OF HIS 'DEMONS' EP // SATURDAY 3RD NOV @ FLOW BAR
Much of the country was oblivious to the career Nathan Cavaleri lead beyond prime time Australia. By age 12, he found himself the centre of a bidding war between the labels of Michael Jackson, Prince and Madonna. By age 16, he'd toured with B.B. King as his guest, and played at the Kennedy Centre in front of The Clintons with Etta James and Bonnie Raitt. All after winning his battle with Leukaemia. Whether it was signing a CD for Jimmy Page, jamming with Dire Straits Mark Knopfler or being called "The Bomb" by Dr Dre, Nathan viewed the world just as any kid would, with childish naivety. It's only now that he has experienced the depths of adulthood adversities, is he reflecting on his past accomplishments in awe.
In 2010, Nathan's battle with insomnia and anxiety was witnessed by thousands when he blacked out on a festival stage. Struggling to regain his confidence and drive he stepped away from his art for 4 years with the expectation of never returning. In Nathan's own words: "to move through those years of paralyzing anxiety/depression I had to ask myself the question, 'Why'? Out of self-preservation, I had to find reasons to fight and be ruthless in discarding any reason that wasn't rock solid." It was during this period of personal confrontation that he stumbled upon the same cathartic connection with music that he had when battling Leukaemia at 7. Upcoming EP, "Demons" is the result of this period, Co-produced with Tony Buchen (Montaine, Mansionair, Asta, The Preatures)
A swaggering tapestry of psychedelic guitar, hybrid beats, swampy riffs and synths, stepping up to the mic to sing his own stories, Cavaleri says "I allowed the contradiction of my influences to run - Lana Del Ray and J.J.Cale. Ry Cooder and Tame Impala. Mos Def and Rodriquez". Nathan kicks off the first single "Demons" which in his words, "captures what I felt when comparing the invincible self of the past to the fragile and lost self I had become and the beautiful realisations that can come from anguish"
As a forerunner, Nathan has been documenting the creative process of the EP through social media and inspires many by exposing the hurdles and feats that have come from his own personal challenges.
Catch Nathan Cavaleri as he brings his stories and new songs to stages around the country.

The first single 'Demons' is out Monday 27th August 2018, available on iTunes and streaming platforms.
Tix $20 + BF through Dramatix or at the Venue ($25 at the Door)
Doors open at 5:30pm for Dinner and Drinks | Show Door at 6:30pm
Dinner available till 8:00pm | Doors close at 10:30pm

Accommodation is available upstairs at Boogie Woogie Beach House, check out your options at
http://www.boogiewoogiebeachhouse.com.au/
Check the Artist & the Venue out below:
https://www.facebook.com/nathancavaleri/
http://www.nathancavaleri.com/
https://www.facebook.com/FLOWCAFE/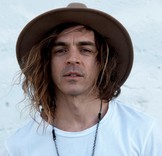 This event has completely sold out!