Shows
Alpha Beta Blue Motion
Bachelor of Creative Arts Dance, Costume Design & Diploma of Live Production Students present
Alpha Beta Blue Motion
by Peter Sheedy
Featuring Zephyr Quartet

Alpha Beta – deals with languages of movement and music inspired by poetry. It is at its heart a purest work that aims to express a range of human emotions in a synergy of sound and action giving the audience a landscape they can navigate according to their own responses to that experience. The movement is developed through a series of alphabets corresponding to the concepts explored and arranged in diverse and layered sections.
Blue Motion – is inspired by the 'versus Rodin' exhibition held at the Gallery of South Australia in 2017. Rodin spent considerable time investigating human anatomy to empower his sculpture with variations of feeling. This piece explores how the body can dramatically shift the viewers perceptions of the emotion/feeling associated with the actions of that body or bodies in space according to the protagonist's shifts in physical intensity, identified points of anatomical initiation or focus, and the nature of the relationships that are created through the physical and emotional interaction.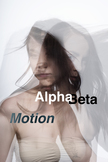 This event has completely sold out!