Shows
JODI & TRISH (The Clouds)
JODI & TRISH (The Clouds)
Australian alterna-rock heroes The Clouds recently hit the road, playing to happy punters in packed venues across the country. The frontwomen, Jodi Phillis & Trish Young, reckon they deserve a trip to the beach. Trouble is, they can't stop singing for long, so they're coming to entertain you while also enjoying a getaway trip.

What better place for a weekend break, with guitars, is there than Old Bar's Boogie Woogie Beach House?

Join Jodi and Trish from The Clouds, in duo mode, for an evening of songs you remember and love from the nineties, with one or two of their more recent releases thrown in to show they're still writing, still weaving those soaring harmonies around gorgeous melodies.

Music, laughter and friends, sea, sand and sunsets, food, wine and fun. What more could you want? See you there!
** Update: 10 Sept from The Clouds regarding Suzie Higgie unable to perform as part of this special event; "Sad news on the passing of honey-voiced poet & minstrel, Conway Savage, who wrote & recorded an album with Suzie Higgie, Soon Will Be Tomorrow, Suzie will honour her friend at his funeral next weekend, & will not be at Flow Bar 15 Sep as planned, but girls from The Clouds (Jodi & Trish) will be. ☁"
Tix $40 + BF through Dramatix or at the Venue
Doors open at 5:30pm for Dinner and Drinks | Show Door at 6:30pm
Dinner available till 8:00pm | Doors close at 10:30pm
Accommodation is available upstairs at Boogie Woogie Beach House, check out your options at
Check the Artists & the Venue out below: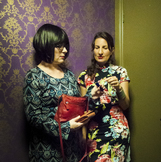 This event has completely sold out!