Shows
Keith Potger AO 2018 Tour @ Flow Bar
Keith Potger AO, founding member of The Seekers, will perform at Flow Bar in Old Bar.
Enjoy Dinner + Show on Saturday 11 August, 31 David Street, Old Bar, 6:30pm.
Ciabatta Bread and Olives to start + a Main Meal from the a-la-carte menu.
2018 is the 50th anniversary of The Seekers breakup. Apart from several No. 1 hits in the UK, The Seekers were the first Australian group to reach No. 1 in the USA charts. This was with Georgy Girl which was also nominated for an Academy Award.
Keith Potger AO, the founding member of this internationally famous group, is coming to Flow Bar to perform songs that will make you smile together with anecdotes that will make you laugh.
He accompanies himself on his 1967 Maton 12 string guitar, which is the guitar that has made The Seekers' instrumental sound so unique. He also has taken up the ukulele and features a couple of songs that he has co-written specially for this instrument. "Audiences love this new material and sing along after only a few bars of each song", he said.
The concert is a solo show by Keith and it features several Seekers' hits, including I'll Never Find Another You and Morningtown Ride, songs from his three solo CDs as well as some of his all time standard and country music favourites.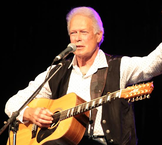 This event has completely sold out!