Shows
Body-isound words
Bachelor of Creative Arts (Dance) second and third year students and Technical Production students present
Body-isound words
Choreographer Michael Getman
Something stirs in me as I look at it, and it is certainly the human you.
It is the vision of the human you revealing an amazing delicacy to me.
X Space Theatre
Adelaide College of the Arts
39 Light Square
Adelaide
7.00pm 13 - 16 June 2018
12.30pm 14 - 15 June
Tickets: $25 Adult $15 Concession
Poster image acknowledgement
Antony Gormley
Aperture, 2009
6 mm square section mild steel bar
188 x 51 x 34 cm
Photograph by Stephen White, London
© the artist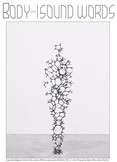 This event has completely sold out!