Shows
JEFF LANG - GUITAR ALCHEMY
TRINITY SESSIONS PRESENTS JEFF LANG MUSIC 8PM DOORS 7.30PM. Licensed bar pre-show and interval.
"In a world where music is diluted by money and plasticine, give thanks that Jeff Lang is out there... He paints pictures in sound." Beat Magazine
As a part of the Guitars in Bars and Umbrella Winter Sounds, Trinity Sessions is excited to welcome back Jeff Lang for a very special solo show where Jeff will do two sets.
Australian-based musician Jeff Lang has earned worldwide acclaim as a virtuosic guitarist, a dynamic songwriter and a startlingly unique live performer. With a back catalogue of 16 studio albums, Jeff has been featured at major festivals, pubs, clubs, arts centres and venues internationally for the past decade. Blending rock, roots, folk, blues, ballads, instrumentals, improvisation and a devastatingly high level of musicality, Jeff Lang is a singularly unique performer in our world.
Jeff Lang's latest album, "Alone in Bad Company" was released in 2017 by ABC/Universal to rapturous media reviews and a three month tour. His most recent world music collaboration is Maru Tarang with Asin Langa & Bhungar Manganiya from Rajasthan & Australian based Indian tabla player, Bobby Singh. This group combines ancient Rajasthani folk music with Jeff's individual sound of "Disturbed Folk".
Throughout his career, Jeff has been showered with achievements and awards - the most outstanding would be his seven ARIA award nominations, as well as his three wins in 2002, 2010 and 2012.
Over the years, Lang has built up a devoted, almost cult-like following with his live performances. Working without a set list and allowing the unique energy of each night to shape the songs, Lang's live shows have become much talked about, always taking the audience along for the ride, has seen word of mouth bloom into a successful career.
It's been widely acknowledged that Jeff Lang is an extraordinarily individual musician. What enhances his unique nature is his steadfast adherence to a prolific and diverse musical palette and output. A songwriter, a collaborator, a guitar virtuoso and a stunning lyricist, Jeff Lang crafts songs as novellas - rich with depth and vision, yet with an open breath for individual interpretation.
And the media says…
"Jeff Lang is one of those people who has music dripping from his fingers." Courier Mail, Australia
"He explores sonorities as eclectic as they are stunning...Lang's only reference point is himself, a unique singer-songwriter-guitarist who follows his own path." Le Soleil, Quebec
"Jeff Lang is, in my humble opinion, a national treasure, a truly gifted songwriter and an outstanding guitarist. He has been inspiration to countless Australian and internationally renowned roots artists and surely has a place in history as one of this generation's finest. He has really touched me and musically, I had a kind of revelation…" John Butler, John Butler Trio
"We're treated to moody atmospheric textures, ripping electric lap-steel riffs, delicate acoustic picking, trippy backwards leads, oddball percussion, throbbing tremolo, and unconventional lyrics – all of which Lang blends like some crazed sonic alchemist. " Andy Ellis, Guitar Player Magazine, USA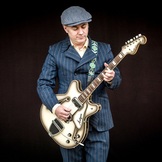 This event has completely sold out!