Shows
The Audreys at Banyena Town Hall
Premier Artists Presents
The Audreys at Banyena Town Hall
At the end of 2017, live favourites and multiple ARIA award winners The Audreys completed a sell-out national tour performing their award winning debut album "Between Last Night & Us" to celebrate 11 years since its release. So well received it was, that they have decided to go back out on the road adding the rest of their illustrious repertoire to the show.
The Audreys have graced almost every major festival in Australia and played more gigs than they can count. They've rocked festivals and clubs in Europe and North America, sold songs to films and tv shows far and wide, written music for theatre, won awards, hit the charts, gone gold and pawned their very hearts for rock and roll.
The Audreys play at the beautiful Banyena Town Hall, Saturday May 5th, 2018. Doors open at 7pm, food and coffee vans on site.
Tickets $30 + booking fee.
www.theaudreys.com.au
www.facebook.com/theaudreys
www.youtube.com/user/TheAudreysMusic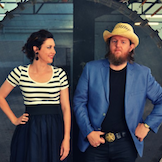 This event has completely sold out!