Shows
Le Improv (Changing Jennifers)
Adelaide's best improvisers, Changing Jennifers come together to improvise, for you, an hour-long story that is sure to amaze, thrill, and titilate your entire body.
After hugely successful seasons in Adelaide, Melbourne, and Edinburgh, Changing Jennifers' LE IMPROV is your opportunity to see improv at its purest and funniest.
Come and enjoy delicious drinks, an entirely gluten free kitchen, a beautiful environment, and hilarious improv, courtesy of Changing Jennifers!
Featuring Sam Calleja, Sam Griffin, Dan Hamilton, Will Mellor, and Eden Trebilco.
First Thursday of Every Month @ 7:30pm
Every Thursday of July @ 7:30pm
The Duke Of Brunswick - 207 Gilbert Street, Adelaide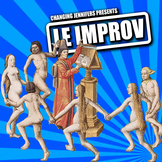 This event has completely sold out!