Shows
Changing Jennifers 10-Year Anniversary Show
It's an amazing improv show! It's a celebration of the past decade! It's the biggest cast in a Jennfiers show EVER!
IT'S THE CJs 10-YEAR ANNIVERSARY SHOW!!!
Come and celebrate TEN YEARS of laughs with all of the wonderful performers who have been part of the group over the past decade (Warren will be thinking of us from the UK).
Drinks. Comedy. Prizes. Fun! We can't believe it has been ten years.
Featuring Sam Calleja, Nick Colebatch, Phill Cowie, Sam Griffin, Dan Hamilton, Will Mellor, Matt Smith, Eugene Suleau, Alia Syed, and Eden Trebilco.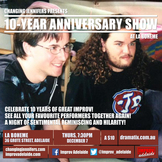 This event has completely sold out!