Shows
The Skin of Our Teeth
Adelaide College of the Arts Acting Design and Technical Production Students present
The Skin of Our Teeth
by Thornton Wilder
Directed by Terence Crawford
Music by Quincy Grant
The Skin of Our Teeth, by Thornton Wilder, is a Pulitzer Prize-winning masterpiece of American theatre.
Set simultaneously in small-town America in 1942, and in the prehistoric age, and depicting the end of the world through ice, flood, and then through war, Wilder's play was a warning as America embarked on its role in World War Two, and a salient prayer for a species that is prone to existential fear.
This is an unforgettable play from an American genius.
X Space Theatre
39 Light Square Adelaide
29 November to 2 December at 7.30pm
2 December at 2.00pm
Tickets: dramatix .com.au Adults $25 Concession $15
An Amateur Production By Arrangement with ORIGINTM Theatrical, on behalf of RIGHTS HOLDER.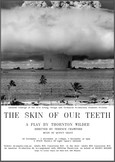 This event has completely sold out!