Shows
CHRIS FINNEN BAND with Jack Humphries
TRINITY SESSIONS PRESENTS THE CHRIS FINNEN BAND Music 8pm Doors 7.30pm. Licensed bar. UNfortunately Little Seeds are unavailable to cater for us.
This show will see Chris Finnen with his Electric Band headlining, for the first time, at Trinity Sessions; he and we have waited a long time. What a way to close out our 15th birthday year.
The Australian - "Chris Finnen is one of Australia's most innovative guitarist. He took us down to the crossroads and off into space, from Delta Blues to Chicago, from Adelaide to Northern Australia via India and Africa."
Over four decades travelling as a troubadour journey man has seen Chris Finnen often referred to as the 'guitarist's guitarist'. Chris brings a wry twist to his original blues song writing, adding sly humour to lyrics, focusing on the musing of everyday experiences, and embracing a strong sense of community. His restless musical curiosity has seen him embrace a tapestry of varied cultural influences, weaving the sounds of India, Celtic traditions, and African nation's into his music. This has resulted in a career rich in variety and encompassing diverse opportunities from film scores, theatrical productions and musical therapy.
Chris performed for the Dalai Lama in 2005, was a guest of the International Expo in Nagoya, Japan, and has shared the stage with some of the world's best, including Buddy Guy, Bo Didley, Jimmy Witherspoon, Roy Buchanan, Eric Burdon, Keb Mo, Bob Brozman, Johnny Copeland, The Homes Brothers, John Mayall, and Mavis Staples. He has worked in Australia with Matt Taylor, Phil Manning, Dutch Tilders, Margaret Roadnight, Jeff Lang, Kevin Borich and Colin Offord. The list goes on…
Chris Finnen shows how to be authentic and make it your own, a mature musician of some years, Chris still plays with the wonder and explorative sense of a child as he coaxes a range of sounds and tones from his guitars. Final word ELECTRIFYING.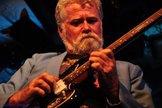 This event has completely sold out!