Shows
Le Prince des jouisseurs
The Adelaide University French Club proudly presents its 2017 theatrical production, Le Prince des jouisseurs, a comedy by Gabriel Sabourin, about the life of famous French playwright Georges Feydeau.

The year is 1919, Georges Feydeau is 56, recently divorced and living in a Parisian hotel room. He personifies the devil-may-care attitude; he drinks heavily, is a profligate spender, has a gambling problem, and a reputation for womanising. He also hasn't written a play in over three years...

The stage is set for a hilarious play, full of increasingly outlandish characters and escapades, mistaken identity and a subtly foreshadowed, poignant dénouement that will both stun, and resonate with, modern audiences.

English-speaking audience members will find the play full of visual humour, "lovers hiding under beds", and featuring English surtitles so you can laugh along at all the word-play too!

Performances will be at the Little Theatre, Adelaide University Cloisters (https://goo.gl/maps/p876K8QFsUv)

Wednesday 13th Sept - 1pm & 7pm
Thursday 14th Sept - 1pm & 7pm
Friday 15th Sept - 1pm & 7pm
Saturday 16th Sept - 4pm (final show!)
(Theatre doors open 20 mins prior to performances. Weekday matinée performances start at 1pm sharp.)

Tickets $10 concession, $15 adult.

• Complimentary wine & cheese in the foyer from 6:30pm for evening performances (3:30pm for the Saturday matinée)
• Rare chance to see a French comedy on stage
• English surtitles (for those whose French is "rusty"!)
• Scheduled running time 105 minutes
Please consult the image below for which actors are performing in which performances: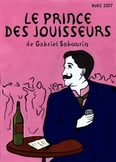 This event has completely sold out!