Shows
Greg Champion
South Coast Folk Club presents Greg Champion - Concert starts at 8pm, doors open at 7pm. Fully seated - cabaret style. Parking on site. Licensed bar - byo supper/nibblies.
Greg came to notice in the 80s on ABC radio with the song I Made a 100 In The Backyard At Mum's. Now he's released around 30 CDs, and won one or two gongs in the VMI category: 'Vaguely Minor Identity'.
Greg combines a unique blend of comedy, parody and folk music.
Has been described as a humourist, wacko, folky, compere, fruitcake, broadcaster and an Australian. A member of ABC's institutional radio show the Coodabeen Champions for 34 years.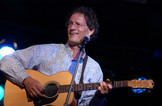 This event has completely sold out!