Shows
Saturday Night Fever
Saturday Night Fever to get Adelaide dancing
Matt Byrne brings smash hit movie to the stage in Adelaide and Elizabeth
Matt Byrne Media will present the SA Premiere of the phenomenal Bee Gees musical Saturday Night Fever the Arts Theatre from July 5 to 15 and Elizabeth's Shedley Theatre from July 20-29.
The musical version of the John Travolta movie that got the world disco dancing back in 1977, has been a huge hit around the world since creator Robert Stigwood adapted it for the stage back in 1998.
Producer/director Byrne said presenting Saturday Night Fever had always "been a dream for me,"
"I used to go to places like the Old Lion, Jules, Sinatras and the Arkaba to dance to this music back in the late 70s," Byrne said.
"The Bee Gees music was sensational and Saturday Night Fever was the hottest movie with the hottest soundtrack in the world.
"Songs like Stayin' Alive, Night Fever, Jive Talkin', How Deep Is Your Love, More Than A Woman and You Should Be Dancing will have the crowd on their feet."
But Byrne is also proud that South Australia's own Robert Stigwood created Saturday Night Fever.
"Robert Stigwood who hailed from Port Pirie was the man behind it all, he was a legendary figure behind many musical hits and movies, including Grease The Movie," he said.
"And his London-based company RSO's musical partnership with the Bee Gees ruled the entertainment world."
But Byrne said there was a lot more to Saturday Night Fever "than disco music and a three-piece white suit."
"What people might have missed in the hype around the film was the powerful story that went with the music," he said.
"We meet a young Italian American called Tony Manero working a low-paid job at paint store and battling with his family's low expectations of him.
"But come Saturday night he and his gang The Faces – Joey, Double J. and Bobby C. rule the local Odyssey Disco where Tony is king of the dance floor.
"Tony's ambitions revolve around a competition which he and dance partner Annette are rehearsing for, until he meets a new girl called Stephanie who is looking to move up socially to Manhattan.
"Tony seeks a relationship with the more mature Stephanie, and his home life is rocked by the news that his brother Frank is leaving the priesthood. The only place he truly feels free is on the dance floor!"
Byrne said he was "thrilled with the all Adelaide cast for the SA Premiere of the show.
"We have some fantastic new talent in Sebastian Cooper as Tony and Amber Platten as Stephanie," he said.
"It never ceases to amaze me how the right people appear when you need them, we want to do the memory and achievements of Robert Stigwood, and the music of the Bee Gees proud."
The show also features Lauren Noble as Annette, Jonathan Dragt as Double J, Anthony Butler as Joey, and Iman Saleh as Bobby C.
Niki Martin plays Tony's mother Flo, Russell Ford is his father Frank Senior and Matthew Pugsley will Tony's brother Frank Junior, and Byrne will play the DJ Monty.
Byrne will direct and design Saturday Night Fever with musical direction by Paul Sinkinson and choreography by Sarah Williams.
Saturday Night Fever will play the Arts Theatre from July 5 to 8 and 11 to 15 at 8 p.m., & July 8 and 15 at 2 p.m., and Elizabeth's Shedley Theatre from July 20-22 and 27 to 29 at 8 p.m. & July 22 & 29 at 2 p.m.
The $25 Cheap Nights will be the Wednesday, July 5 Preview and Tuesday, July 11 at the Arts, and Thursday, July 20 at the Shedley.
Admission is $40 Adults and $35 for Concessions, with Group Discount prices of $38 /$33 for 10 or more. (Booking Agency Fees Apply.)
Bookings are available on mattbyrnemedia.com.au, 8262 4906, BASS or dramatix.com.au (agency booking fees apply.)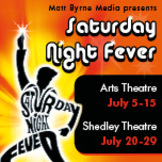 This event has completely sold out!