Shows
Le Improv (Changing Jennifers)
Changing Jennifers presents LE IMPROV!
Returning from their highly successful season in the Melbourne International Comedy Festival, Changing Jennifers are back in Adelaide, bringing you the best hour of improvisation you can imagine.
Come and enjoy delicious cocktails, a beautiful environment, and hilarious improv, courtesy of Changing Jennifers!
La Boheme - 36 Grote Street, Adelaide
Featuring Sam Calleja, Sam Griffin, Dan Hamilton, Will Mellor, and Eden Trebilco.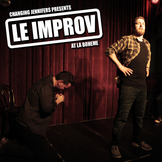 This event has completely sold out!