Shows
Can't Stop the Serenity 2019!
Ready to misbehave, fine folk of Adelaide?

The Adelaide Browncoats are thrilled to announce details of this year's Can't Stop the Serenity event.

Our very generous supporters Mercury Cinema will be hosting our shindig on Saturday 12th October, from 12.30pm until 6.30pm. (Doors open at 12pm for 12.30pm screening)

The rights to screen Dr Horrible can't be bought with a diamond the size of a testicle, but we got our hands on them… the rights, that is. So the fun will begin with a rare opportunity to experience a super-sized screening of Dr. Horrible's Sing-Along Blog.

Then of course there will be a screening of the Big Damn Movie. And in between there will be the chance to win some amazing prizes in our raffle, pick up some shinies at the independent stalls, and the opportunity to show off your fanciest Whedonverse cosplay.

All money raised this year will be split between the global Can't Stop the Serenity charity (and Joss' personal favourite) Equality Now and our chosen local charity for 2019 Essentials 4 Women SA.

Equality Now use the law to change the world. They are dedicated to creating a more just world where women and girls have the same rights as men and boys. Their international network of lawyers, activists and supporters hold governments responsible for ending female genital mutilation, legal inequality, sexual trafficking and sexual violence.

Essentials 4 Women SA aims to provide all women with the basic, but costly, items for feminine hygiene including sanitary products and underwear. Limited access to sanitary products means these women are often forced to choose between buying sanitary products or other essential items like food for their children. They help women (and men) who are homeless, at risk of becoming homeless or victims of domestic violence. Basically anyone who has little or no income.


For more information:-

visit our Facebook page Adelaide Browncoats
join our Facebook group Adelaide Browncoats
check us out on Twitter @AdelBrowncoats
or e-mail adelaidebrowncoats@gmail.com

Wanna help us keep her in the air another year? Is Mal's coat kinda brownish? See you there!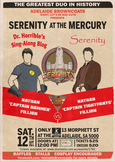 This event has completely sold out!