Shows
Floating Melodies: Wireless
TICKETS NOW AVAILABLE BY CLICKING HERE
WIRELESS takes a nostalgic look at the songs of unrequited love that flooded the radio (known affectionately as the "WIRELESS" in the 50's an 60's) and asks; 'Did these songs affect the minds of the listeners?'
"Wireless' focuses on 'Joe Cantari' a guy in his 50's who up until now has never been able to 'seal the deal' when it comes to committing to a relationship.
Cabaret Award winner David Gauci plays Joe Cantari, a cabaret singer, who finds himself on the couch of clinical psychologist 'Dr Grossweiner' of whom he asks " You sure you weren't given hell for your surname as a kid?'
Through anecdotes and the music of iconic performers such as The Carpenters, Shirley Bassey, Lesley Gore, Cher, Mary Hopkins, Carole King, Dionne Warwick and a host of 50's and 60's icons we soon learn how the psyche of a generation was influence by the music they listened to.
"WHEN I WAS YOUNG I LISTENED TO THE RADIO"
Tickets prices are:
Adults $40
Concession $34
Group (minimum 6) $37
Tickets include the cruise, concert, food and one beverage. Extra beverages can be purchased on board. Boarding takes place at Elder Park Popeye Dock ten minutes before the cruise start time.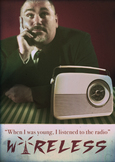 This event has completely sold out!