Shows
Le Improv (Changing Jennifers)
Start your post-Fringe year of theatre in the right way by coming to LE IMPROV at La Boheme!
Changing Jennifers are back after their SOLD OUT 2017 Adelaide Fringe season, and they're about to put their amazing skills back into action in their first monthly show for the year!
Come and enjoy delicious cocktails, a beautiful environment, and hilarious improv, courtesy of Changing Jennifers!
Thursday, April 6th @ 7:30pm
La Boheme - 36 Grote Street, Adelaide
Featuring Sam Calleja, Sam Griffin, Dan Hamilton, and Eden Trebilco.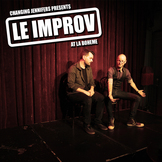 This event has completely sold out!