Shows
Floating Melodies: Harmony & Haighs
What do you get when you put together delicious a cappella harmonies and iconic South Australian chocolate? The sweet treat that is Harmony and Haigh's. Two leading SA a cappella groups have joined forces to present a feast of song on board the Popeye on the River Torrens (Karrawirra Parri). Award-winning women's chorus High Spirits Harmony will be joined by dashing men's quartet DQ for a feast of musical magic. Performing separately and together, High Spirits Harmony and DQ will bring you a mixed assortment of contemporary and other music ranging from The Beatles to barbershop to Billy Joel.
The second in the iconic South Australian food series (previously we focused on Fruchocs!) for Floating Melodies, be prepared to enjoy Haigh's chocolates as well as sampling one of their recipe cards: Chocolate Floating Islands with Vanilla Custard and Chocolate Sauce. This recipe was created by Chris Smith, Sous Chef at the Intercontinentala and from the recipe card it looks delicious!
Boarding takes place 10 minutes before the cruise starts from the Elder Park Popeye Dock and Table 1 and 2 are at the front of the boat near the stage. Your ticket includes the concert, cruise, Haighs and a glass of local beverage. Extra glasses are available to purchase on board!
Tickets are:
Adult $40
Group of 6 $37
Conc $34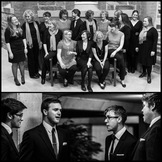 This event has completely sold out!