Shows
Improvised Improv
Returning after hugely successful seasons in the Edinburgh Festival Fringe and Adelaide Fringe Festival, Changing Jennifers bring you an hour of world class, best-of-the-fest improv. No show is the same as the improvisers create a unique story every night! Bold, daring and hilarious.
Changing Jennifers are a comedy improvisation troupe who specialise in long-form improvisation. They get several suggestions from the audience, a location, an era, a famous person, a magical item, anything, and then improvise an hour-long story based on those suggestions.
They perform wild and obscure stories straight from the performers' twisted minds. No two shows are ever the same and no suggestion is too daunting for Changing Jennifers. In the same vein as classic shows Whose Line Is It Anyway, Thank God You're Here and The Mighty Boosh, Changing Jennifers are side-splitting improvisational titans.
'A great night of laughs.' Fringe Benefits

'Laugh out loud experiences.' dB Magazine

'A hearty night of wit and comedy.' GLAM Adelaide
'Pure mastery.' InDaily

'An entertaining hour of hysterical improvised chaos!' Rip It Up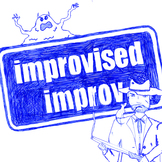 This event has completely sold out!