Shows
CHICAGO
PROHIBITION IS BACK!

Emma Knights Productions is pleased to be presenting Chicago The Musical in an immersive setting starting right here...It is the mid 1920's and the McVickers Theatre is all a glow...but we can't tell you where it is or the Marshall will shut us down. Dare to speak the password and we will share with you a story of murder, greed, corruption, violence, exploitation, adultery and treachery. All the things we hold near and dear to our hearts...
Chicago is based on actual criminals that 1920s reporter Maurine Dallas Watkins reported on and wrote a play upon in 1926. The story is a satire on the concept of the "Celebrity Criminal" that is still very relevant today. Chicago is the #1 longest-running American Musical in Broadway History, was the winner of six 1997 Tony Awards including Best Musical Revival and is filled with show-stopping numbers and the dancing...well you will just have to come and see.
The location will remain secret until you have booked your tickets...however we can tell you it is West of Adelaide city and close to public transport. A week before your booked performance you will receive an email with the location and the password needed for you to obtain entry to the show.
So, come and take a trip back in time to experience the thrill of fooling the law, drinking your prohibition liquor in a secret location and get down and dirty with this all South Australian cast as they perform Chicago in a way you have never experienced it before...dressing in your 1920's best is encouraged!
Book by Fred Ebb and Bob Fosse
Music by John Kander
Lyrics by Fred Ebb
Based on the play Chicago by Maurine Dallas Watkins
Script adaptation by David Thompson
BY ARRANGEMENT WITH ORiGiN™ THEATRICAL
ON BEHALF OF SAMUEL FRENCH LTD.
Director: Adrian Barnes
Choreographer: Kerreane Sarti
Musical Director: Emma Knights
Tickets:
Adult: $48
Concession: $44
Group (10 or more) $46
Restricted view: $40
*PLEASE NOTE:
When selecting seats the Stage is at the bottom of the screen. The restricted seating area is the red section and the cabaret tables are the blue section.

Whilst food and beverages (bought at the venue) can be taken into the performance space, talking is not permitted during the performance as is with a normal theatre production.

Doors open 45 minutes before the performance...come along early for the full immersive experience.

This performance does contain adult themes.

This production is wheelchair accessible in the cabaret table section.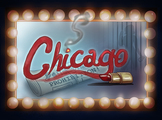 This event has completely sold out!