Shows
THE CARDWELL FAMILY AND FRIENDS
TRINITY SESSIONS PRESENTS THE CARDWELLS AND FRIENDS - Music 7pm Doors 6.30pm
In 2015 Jeb & Abbie Cardwell staged a birthday concert featuring their father Roger Cardwell without him knowing!
It was such a success they are doing it once more but this time he knows all about it.
Roger Cardwell became a house hold name largely within South Australia due to his logie winning years as a news reading anchor man and for his pioneering work hosting and performing on his 1960's TV show The Country & Western Hour.
He posesses a spectacular voice that many grew up with reading radio plays, documentaries and an untold amount of commercials in his time.
His son Jeb and daughter Abbie have grown up to follow in his musical footsteps. Jeb is a consumate guitarist that performs solo and with an array of artists such as Australia's Queen of Country, Kasey Chambers. Abbie Cardwell is a mulit-award winning songwriter and multi-instrumentalist who performs her Roots-Americana music with bands all over Australia and Mexico.

For one very memorable night in Adelaide at Trinity Sessions this musical family are putting on an experience that will include special friends that either appeared on Rogers TV show or that have collaborated musicaly with them throughout their careers, including Doug Ashdown, Trev Warner and more. Plus a crack house band including Steve Salvi, Billy Bob Rankine.

Last year's event was a complete sell out with many folks left sadly out in the cold but this years event is offering more seats.

Grab them while you can!
'Jeb Cardwell is one of my favourite all round musicians in Australia. Master of guitar, banjo, dobro and can sing his arse off! I love him.' Kasey Chambers
'Jeb Cardwell is a killer guitarist.' Jeff Lang
Armed with her tenor banjo, guitar, ukulele, harmonica and voice Abbie Cardwell naturally writes songs that pay homage to the genres of her influences. Creating music from acoustic roots, alt-country,Americanato even vintage Mariachi rock and Spaghetti Western!
'Her voice is as pure as water in a running mountain stream – not to be missed'. Home Made Jam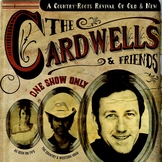 This event has completely sold out!