Shows
TONY MCMANUS (CAN) and BEPPE GAMBETTA (ITA) with Cal Williams Jr
TRINITY SESSIONS PRESENTS TONY MCMANUS AND BEPPE GAMBETTA with guest CAL WILLIAMS JR Doors 7.30pm Music 8pm. Licensed bar at interval and pre-show (7pm).
Scottish born and Canadian resident Tony McManus is the world's undisputed greatest Celtic guitar player whilst Italian Beppe Gambetta is one of Europe's hottest flatpickers, with America in his heart and his roots in the sun and olive trees of the Mediterranean. Between them these two brilliant musicians have played all the major guitar festivals from the Hebrides to Connemara and from Bogota to Tokyo not forgetting appearances at The Chet Atkins Festival and the famous Ryman Auditorium in Nashville. Their total solo recording output to date is over twenty, with countless collaborations and sessions, the most recent from 2015 being their own duo album 'Round Trip'.
Two of the world's hottest acoustic guitar players combine in a virtuoso performance of world guitar styles from both sides of the Atlantic, played with passion, beautiful precision and astounding technique.
They will be touring the new album 'Round Trip' - "This exhilarating trip is highly recommended to acoustic-guitar fans of all stripes." - Acoustic Guitar Magazine
Joining Tony and Beppe for a night of guitar magic will be Cal Williams Jr.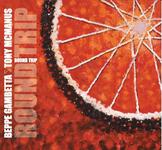 This event has completely sold out!