Shows
L'Importance d'être constant
The Adelaide University French Club is proud to present its 2018 production, L'Importance d'être Constant, a French adaptation of Oscar Wilde's classic 'The Importance of Being Earnest: a trivial comedy for serious people'.
Amid a flurry of witty banter, mistaken identity and cucumber sandwiches, Algernon and Jack must grapple with the consequences of their deceptions as well as the wrath of formidable Lady Bracknell.
Many English-speaking audience members will be familiar with this timeless and hilarious satire on class, marriage and societal expectations. For those unfamiliar with Wilde's work, do not fear! All performances will feature English surtitles, a scene-by-scene guide and plenty of visual entertainment
(we've got your back!).
Performances
Wednesday 5 September, 1.00pm and 7.00pm.
Thursday 6 September, 1.00pm and 7.00pm.
Friday 7 September, 1.00pm and 7.00pm.
*** Complimentary wine & cheese in the foyer from 6:30pm prior to all evening performances ***
Doors will open 20 minutes prior to performances. Matinée performances start at 1pm sharp.
Little Theatre, University of Adelaide North Terrace Campus (https://goo.gl/maps/p876K8QFsUv).
Tickets
$10 concession
$15 adult
Scheduled running time: 100 minutes
Don't miss out!
STARRING
Oskar Rynkiewicz as Jack Worthing
Jack Gransbury as Algernon Moncrieff
Solange Villanueva-Alvarez as Gwendolen Fairfax (Thursday 1pm and 7pm, Friday 1pm)
Matilda Southgate as Gwendolen Fairfax (Wednesday 1pm and 7pm, Friday 7pm)
Amelia Holds as Cecily Cardew
Julie Ross-Spooner as Lady Bracknell
Katherine Bian as Mademoiselle Prism
Liam Fitzpatrick as Rev. Canon Chasuble
Sarah Damin as Lane
Samantha Edwards as Merriman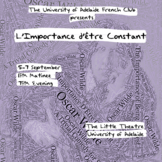 This event has completely sold out!